Services and Approach
Counseling and Coaching
I have been trained in Process Work, Depth Psychology - incorporating Jungian and psychoanalytic approaches, as well as Humanistic and Transpersonal Psychology. My training has taken place over the years in South Africa, Australia, Switzerland, and U.S.A.
My approach is both psychodynamic and process-oriented. I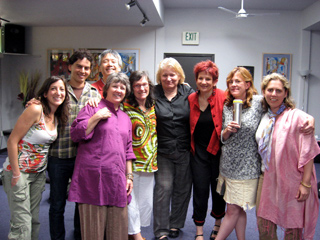 incorporate methods that unfold presentations through the use of analysis, body signals, symbolism, dreams, childhood experiences, relationship patterns and daily encounters. I also work with signals and interactions that occur in the moment, using cognitive techniques, art, movement, storytelling, and communication. I adapt my approach to the needs of those I am working with, at times providing a concrete and practical direction for the work, and at others, relying more on unfolding irrational and mysterious aspects that present themselves. My philosophy rests on the idea that wisdom is held within the depths of each individual and that the helper's role is to support the emergence of insight and awareness of the underlying process that is trying to occur. Disturbance is seen as a gateway into new awareness and thus the enhancement of life.
Consulting
In consulting with others, my goal is to provide a service in which individuals, groups and communities develop new insight into difficulties and challenges. I provide concrete skills, tools and methods for unfolding presenting dynamics in order to transform difficulties into future growth and development.
Group/Conflict Facilitation and Community Development
The support for diversity and its various styles and forms of communicating is a central premise in my work with groups and communities. Each part of a system has a message for the whole, and in processing the deeply held beliefs and experiences of each position, the system itself becomes enriched. Group facilitation is a transformative, dynamic process, in which previously unheard stories and views are given support to express themselves. Through this process, where various positions become known to each other, meaning emerges that can be applied to enriching groups, organizations, and communities. Conflict becomes less frightening, and participants become able to speak out directly, enhancing relationships and developing trust.
End of Life Care and Coma Work
Accompanying a loved one or patient who is near death or in coma is one of the greatest privileges and challenges of our times. One of the keys to doing this well is our ability to acknowledge, understand, support and include the subjective experiences of the person even though they may be in a non-verbal state.
In working with the patient, I use a variety of techniques to establish connection with the person near death or in coma, and assist them in recognizing and following the next steps in their journey. I also offer support and training to family and caregivers. My book, "Doorways into Dying" written with my colleague Kay Ryan, is available through Amazon or Austin Macauley, U.K.